As of this entry we have a semi dedicated route from Indy to San Bernadino, CA to Chicago Heights, IL and back home. We usually drive this in 4 days.
Some of my other trucking friends are not in to the long distance over the road drive. We love it. One of things we always tell folks when they ask about driving is, " Do you like camping?" Because, in our minds, that's what were doing everyday without having to set up a camp site.  I guess we use the term "camping" because we're "roughing" it out here. We're not spending nights in some plush hotel. We're going a day or two or three between showers. We are essentially in our truck roughly 20-22 hours out of a 24 hour day. On occasion we'll splurge and get to a restaurant we can park at and enjoy a nice sit down dinner. And when I say "splurge" I'm not referring to money, I'm referring to "time" because we tend to be go go go and time is everything. We usually go go go to get back home so we can have quality downtime. And that's just another thing we love about our new career: We decide when we want to work and when we want time off. Driving for Landstar allows us to do that.
Just like any corporation, we hear pros and cons about this company from disgruntled ex-employees. The funny thing is we hear it from people that are STILL driving for Landstar also. Can't be THAT bad if theyre still driving for them.
We like it. But then we've only been doing this for a couple of years so we don't know any better :-)  Ignorance is bliss I suppose.
Driving over the road we get to see A LOT of scenery. Definitely a big reason why we love this job. With our current route of SoCal and back we can choose a couple of different routes across the States and change it up. Mostly we do that according to weather and weight we're pulling. If we are heavy we tend to steer away from the route that takes us through Colorado and Utah and THOSE mountains.  Heavy we'll take the less mountainous southern route. Plus that tends to be the windier route so heavy is good. In our rookie year we were unfortunate enough to be driving through i70 in the Colorado Rockies during the winter and had to install snow chains on the truck and trailer. That's not fun in 70 degree weather just practicing. Add freezing temperatures and doing it on the side of an interstate with cars SLIDING by and it makes things VERY exciting. Just a day or two after I did the chain thing we heard of a trucker getting run over by some careless car driver ( we call them "4 wheelers") while the truck driver was trying t put his chains on. Commercial truck driving: not for the feint of heart. As a matter of fact I have to do an annual physical to make sure I have a healthy heart amongst other things. Currently I have slightly elevated blood pressure. No medication needed but it is STRONGLY recommended I get into a better aerobic shape. Oh, and cut down on the fast food. Work in progress. 
So that's really "my" job: Drive and try to get healthy.
Deanna does EVERYTHING else. She's Administration and Accounting and HR AND Drives the same hours I do.and when you drive for Landstar theres LOTS of time spent on the phone responding to any load questions. Lots. For me, I can see where I would easily become one of those disgruntled employees not wanting to jump through all the hoops and dealing with all the red tape and paper work and phone calls. Good thing Deanna is a "by the books" kinda gal. Me? I'm a bass player.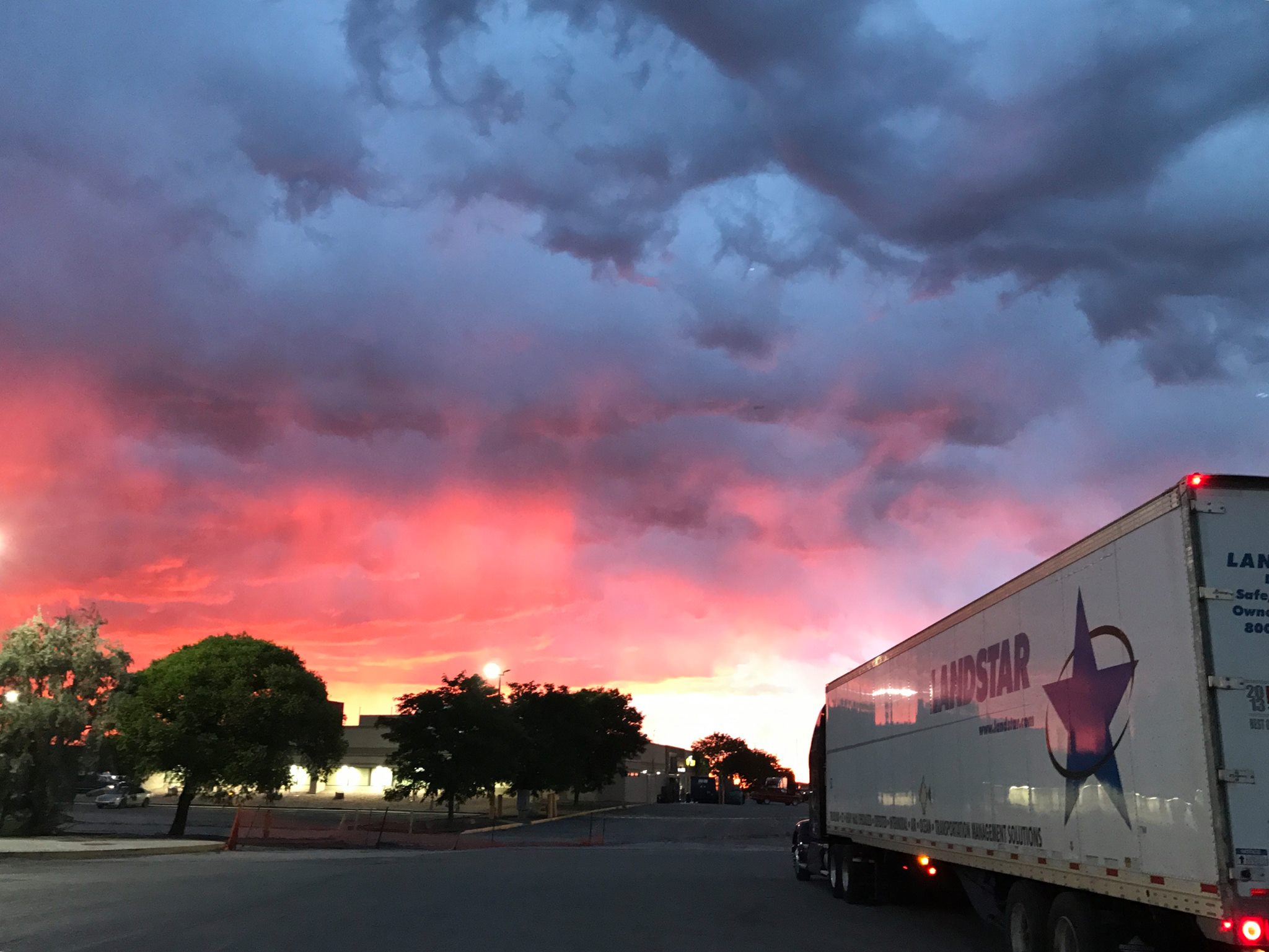 Our truck and trailer in the New Mexico Sunset