Hey! Its been a long time!
I am motivated to write here because of some old band pics showing up on Facebook and because of my good friend, Paris Brown is now the drummer for the project band TIMESLIP thst I am also a part of.
Paris and I used to be in the second coming of the band The Catfish back in the 90's. I'm thinking 1993 or 1994 maybe?
That band consisted of three of the members of Catfish I originally played with: Steve Elston  (sax, keys vocals) Ralph Island (Congas, Timbales, assorted percussion) and myself on bass.
The original Catfish broke up for ...who knows. For whatever reason Steve, Ralph and I kept going with it. We picked up a couple of guitarists we all knew through jamming at the Slippery Noodle: Dan Flynn and Tony Hamm. Not sure what Dan Flynn is dong these days. The last I heard, Tony Hamm was the guitarist for the country / rock band Cornfield Mafia.
At some point we decided to enter the International Blues Band competition in Indianapolis. The winner would go on to the World competition in Memphis. I believe that year the winner to represent Indy was none other than my good friends and ex-Catfish Dan Holmes and Randy Howson with bassist extraordinaire Bill Ritter. So they go off to Memphis.
Nowadays, Dan Holmes is down in Texas fronting his own band. Randy "RJ" Howson is down in Florida fronting his. And Bill Ritter is the bassist for local Indy favorite and legend Jennie Devoe.
Catfish took second place in the contest which was the prize of recording for a couple hours at The Lodge, a studio here in Indy.
This brings us to the "Blast From The Past"
Here is a photo of this lineup of The Catfish: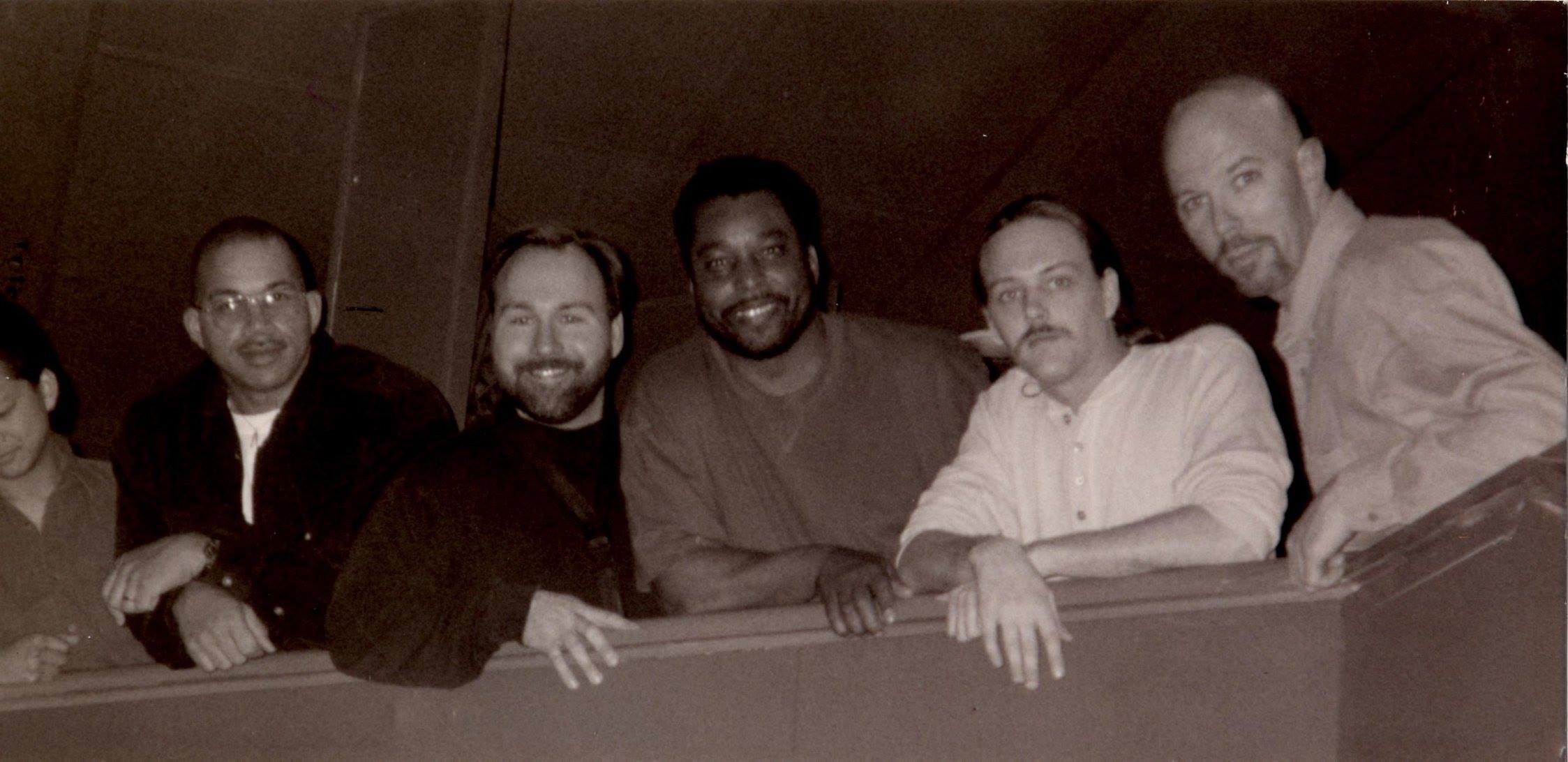 l-r  Jimmy V, Paris Brown, Steve Elston, Ralph Island, Tony Hamm, and Dan Flynn
The "podcast" listed is the result of our recording at the Lodge.
My apologies for quality. Its from a 2nd or 3rd generation cassette tape to a MP3 convertor to thumb drive to here.
Jimmy v on bass, Paris on drum set. Besides playing in TIMESLIP Paris also plays with local Indy band JUS'TA BAND.
Steve on Vocals, sax, and keys. If you wanna catch Steve he is one of the premier solo artists performing at retirement homes and facilities all over Indiana. he also DJ's parties and weddings.
Tony and Dan on guitars. I don't remember who did what leads. Maybe one of you guys will see this and drop me a note on who did what. As I mentioned before, last I heard, Tony was the guitarist for CORNFIELD MAFIA and Dan is m.i.a.
(songs are posted in COMMENTS below blog)
First song is Eric Clapton's SOMEDAY AFTER AWHILE. I believe we wanted to use our Lodge recording as our demo to get gigs. Someday After Awhile was to show off our "Blues" touch.
Second song  is an original by the band  THE BLUES IS A FEELING. a little Blues diddy we wrote and threw almost EVERY cliché into it we could think of.
Third and final cut was a band favorite to play live. Sonny Landreth's CONGO SQUARE . The version we try to emulate is the Neville Brothers version.
Almost all of this was recorded live with no over dubs. I think the only overdubs we did was either Steves keys or one of his sax lines.
Obviously we didn't use a click track either ! LOL! I didn't check if we all actually sped up or I started pushing or pulling on the meter.
Some might ask, "Why no bass solo(s)?
Two reasons: 1) I wasn't that good then
                       2) EVERYBODY did and deserved solos in this and the first formation of Catfish.
And that's my Blast From The Past for today.
Ill be 60 years old next year so I have lots of past blasts I can come up with.
Til then...... Keep the dirty side down and the shiny side up!